Are you headed to Walt Disney World with kids for the first time?  Lucky you!
These are my Walt Disney World for Beginners Tips and Tricks.
Going to Disney World with Kids?  You definitely need this guide.  Urm, I just hope it all makes sense.  A trip to Walt Disney World for beginners can be very confusing.
1.  MAGIC BANDS
Walt Disney World for beginners tip number one!
If you are staying at a Walt Disney Resort (which I recommend you do HERE), then you will be sent your magic bands prior to your arrival (actually this only happens if you are a US resident – which means American visitors can go straight to their hotel room). 
Not from the States? Then your bands will be waiting for you when you check-in to your hotel.
What are magic bands?
They are colourful watch-like things you wear for the duration of your trip. They are your keys, your tickets, and your credit card. 
They are EVERYTHING.
You can pick your colour and then your name is written on the back.  You can even upgrade to fancy bands if you like!
The bands has all your vital information (and creepily track you) but fear not:  if your band is lost or stolen no one else can access your information.  Each band still has a PIN you must use when paying.
Magic Bands open your hotel door, get you into the parks and pay for your iced coffee.
A PRO:  We liked the ease of having them – my husband felt so free walking around without a wallet.  
A CON:  After a few cocktails in EPCOT, it was easy to tipsy buy toys for my kids.  Whoops.
2. MAGICAL EXPRESS (AND HOW IT'S NOT SO MAGICAL)
This Walt Disney World for beginners tip is based solely on my own experience.  Take it with a grain of salt!
Magical Express is the free shuttle to and from the Orlando airport to your resort.
Yes, FREE!
How it works:
A week before leaving your home, Disney will send you an envelope containing yellow luggage tags.  You affix these to your suitcases at your departure airport.
There is also a piece of paper in your envelope that you need to hand over to Magical Express when you arrive.  Do not be a dummy, like me, and throw the paper into recycling.  It's your ticket for the bus, so to speak.
Why the yellow luggage tags?
The idea is that you drop your bags off at your airport and don't see them again until you are in your hotel room.  You get off the airplane in Orlando, hop on your bus and arrive at your resort without having to schelp a thing.
So convenient right?  Or not.
It all depends on when you arrive.
How it's not so magical:
My husband and I debated just picking our luggage off of the carousal like normal.   I thought that we could decide once we landed if we wanted to drag our cases or not.
My mistake.  Once those yellow tags are on,  you won't see your bags until they arrive at your room.
THREE TO FIVE HOURS AFTER YOU HAVE CHECKED INTO YOUR HOTEL.
This is part 1 of why this service is not awesome.  
On the website, it makes it sound so easy.  It  does actually say "may take up to three hours after you arrive at your hotel".
So I possibly missed the 'after you arrive at your hotel' part.  BUT no where does it say on the website that it could take up to FIVE hours.
Which is actually the case.  We did not get our suitcases until well past midnight!
How to make Magical Express magical:
It took a long time to get from Orlando airport to our hotel, the Caribbean Beach Resort.  
We had to drop off all the expensive resort guests first.  We watched as we passed our resort and then did a huge circle back to it.
Our flight arrived at 7PM.  We did not check-in until 9PM.  Our luggage didn't arrive until 1:30 AM.
Because we have two small kids and it was bedtime, we should have just taken a taxi straight to our resort.  We would have been there in a half hour.
I only learned of the 5 hour window when I called bell services and they told me to expect our luggage 3-5 hours after check-in.  This was my fault for not reading the details more closely or doing better research.
I had a bad cold, my ears were plugged and all I wanted to do was sleep.  My drugs had been stupidly packed in my luggage.   As did the kid's PJ's, toothbrushes, etc.  
The website and all the planning blogs advice to keep medicine and valuables in your carry-on.   Yeah, I didn't listen.
 Therefore heed MY advice!  
1. Use the yellow luggage tags if you have an earlier arrival time
OR
2. Pack what you need to go to bed
OR
3. Just carry your own suitcases.
And if your plane arrives late:  just take a taxi and get those kids to bed!
GETTING FROM ORLANDO AIRPORT TO YOUR RESORT
Magical Express is incredibly easy and well signed at the airport.
GETTING TO ORLANDO AIRPORT FROM YOUR RESORT  
The day before your departure, the hotel gives you a letter stating what time your express will be picking you up.
On the return journey, the Magical Express only takes guests from the resort you are staying at.
  Therefore our journey to the airport was only 20 minutes.
Walt Disney World for Beginners Tip:
If you are arriving early in the day, by all means use the luggage service and make sure to have packed your carry-on with swimsuits, medication and diapers. 
But if you get in later in the evening and your kids need to sleep – contemplate a quick ride to your resort over a longer bus journey.
3.
 

ADR's or Advance Dining Reservations

I did not understand how important this Walt Disney World for beginners tip was when I booked our vacation.

I couldn't believe the craziness of having to plan our meals ahead of time.

Reservations open up 180 days (or SIX WHOLE MONTHS) in advance.   

WTF?  That seems insane right?  I have no idea what I want to eat it six hours let alone six months.

After being to Disney World with kids,  I now see the importance of planning far ahead.  Some restaurants (see Character Meals below) are booked solid all the time.

There are of course reservations that you can make the day before or the day of – but they might not be your first choice.

The two most coveted reservations:

 1.  Cinderella's Castle

2.  Early morning reservations (these are awesome – keep reading to find out why!)

We booked our vacation four months out so by the time I went to make meal bookings Cinderella's Castle and early morning reservations were already gone.

I had no idea what to book. I chose one sit-down meal a day per park.  This is perhaps a good rule of thumb if you are in Disney World with kids.

I am not the food expert in this case so I must refer you to the amazing AJ over at Disney Food Blog
Please note:
Disney has a 24 hour cancellation policy on ADR's.  
If you cancel the day of, you are subject to a $10/person fee.
It's not really 24 hours – it's just the day before.   Don't worry if you want to cancel a reservation that is at  7PM on Monday at 10PM on Sunday.  You won't pay the fee.
And this is how I learned . . . .
My FAVOURITE Disney World for Beginners tip:
Reservations open up every day!
If you can't make up your mind where you want to go, or change your mind, or discover your child is obsessed with Elsa suddenly and you NEED to go to Akerhaus – THEN you check your app (explained below) approx 24 hours before your desired time and you may just get lucky!
I used this tip when I discovered the early morning secret (also explained below), I would wake up on and immediately check the Disney app for the next morning.  There would often be new spots available.
I consistently saw openings for Be Our Guest, Akerhaus, Prime Time Café, Artist's Point and Hollywood and Vine (all high-demand restaurants). BUT NEVER CINDERELLA'S CASTLE.
What will I do next time we go:
Reserve my ADR as soon as we book our vacation and make as early-as-possible character breakfast reservations.   Then wing the rest of the meals. 
**I was constantly making changes to my reservations one day in advance while 'having fun' (aka standing in line) at a park.  I thrive on this.  If this sounds awful to you – make reservations before hand and stick to them.  Or use travel agent – which I talk about in this POST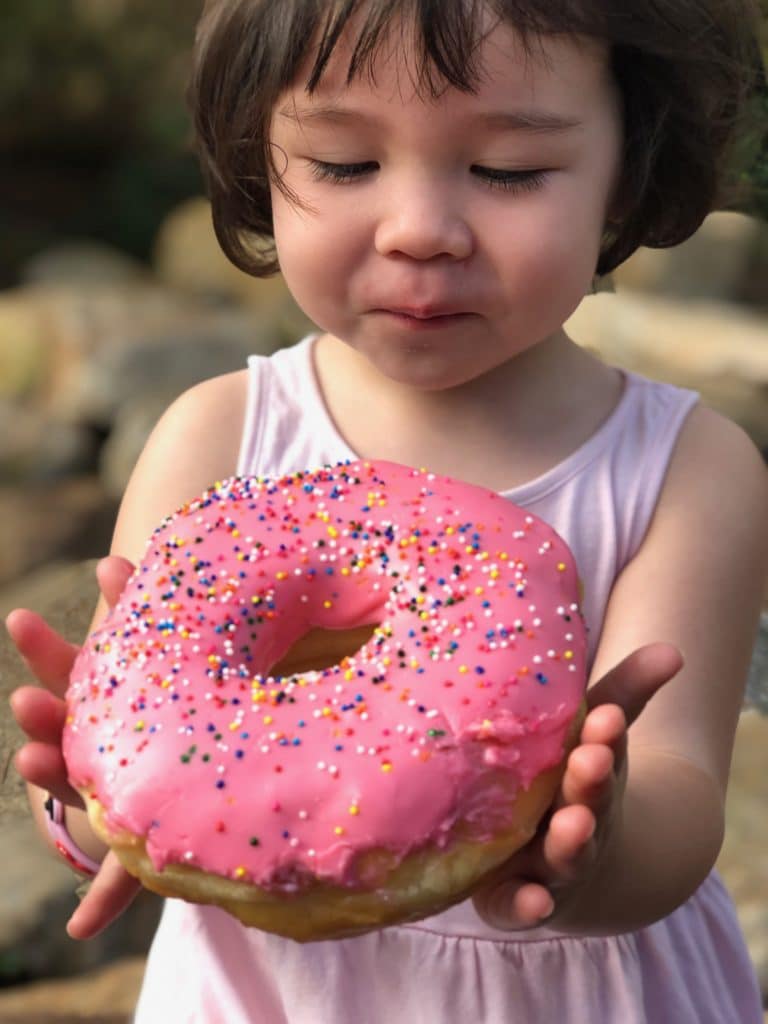 Please note this doughnut was for us to share.  Alice ate the whole thing.
Disney World for Beginners CASUAL dining tip:
Use the My Disney Experience App to order your food then you can simply pick it up in the mobile order line.
SO MUCH FASTER!
7.
  GIVE YOURSELF A BREAK
Next time I go to Disney World with kids, this will be my most important Walt Disney World for beginners tip.
It is my hardest lesson. 
Every time I've gone to Disney, I am a rope drop to fireworks kind of girl.
What is rope drop?
The moment the park opens (which is always earlier than the posted time by at least 15 minutes to 45 minutes) and they do a little welcome show. 
Fireworks are self-explanatory.
This means being at any given park for about 12 hours.  Which apparently is not everyone's bag. 
Especially when you are 4 and 2.
Or 75.
In my mind we spent so much money on the park passes that we needed to be at them all the time.
I had t0 change my thinking to see the vacation as a whole:  resort AND parks. 
 What worked for us:
Go the parks bright and early, head back to the resort at lunch for pool time in the afternoon (or for mama to catch a nap) and then head to another park in the evening (with or without kids).
George was super moody on our third day and was a bit of a crank that we had to drag around EPCOT.  We went home for a swim and voilà!  He was fixed.
Once we started having long afternoon pool breaks, he was a way happier kid. 
THIS IS ONE OF YOUR MOST IMPORTANT DISNEY WORLD WITH KIDS TIP!
8.
  BUY YOUR OWN SNACKS AND DOLLAR STORE GLOW STICKS
This Walt Disney World for Beginners money saving genius tip is not my own – thank you other bloggers!  You saved me lots of cash!
Disney is great at letting you bring your own food into the parks.  Although they do not allow coolers, etc and they have new STROLLER SIZE REGULATIONS – you can still bring in a ton of your own stuff.
I brought snack items from home (raisins, goldfish, etc) and ordered groceries to be delivered to our resort upon arrival (so many services you can use:  Walmart, Amazon, Instacart – just to name a few.
The most successful thing I ordered was a jar of peanut butter and a loaf of bread.
When we would return to our hotel room, no matter what time of day, both kids were suddenly famished and devoured peanut butter sandwiches like they were going out of style. 
I had also read the tip to buy glow sticks at the Dollar Store before you come. 
This was GENIUS.
As soon as the sun starts setting, vendors selling overpriced glow toys come out. 
Obviously a glowing and spinning Buzz Lightyear looks amazing – but they are massive (how would it come home?) and so expensive. 
My kids would see them, ask for one and then be just as happy with glowing sticks that cost me $2.
** Disney with kids travel tip:  pack snack bags and containers!  These came in so handy each morning grabbing various snack or food items and carrying them in our bags **
For you Walt Disney World beginners: bad family selfies are a thing for the past!
Around all the parks, professional Disney photographers are waiting with their cameras to capture your memories with your family as a whole unit (aka – this is a chance for you to get a photo of your whole family). 
You pose, they click and then scan your wrist band.
You can do this for free and then buy the photos you like individually OR you can purchase a photopass.
Cost:
This is something I am on the fence about. I think it is severely overpriced.  Before you arrive, you can purchase this for $160 USD and once at Disney it is $190 USD (prices may have changed).
I thought we would for sure get tons of great photos so I pre-paid beforehand.
Firstly, the photographers are hit and miss.  We had some great ones and we had some meh ones.  I was super disappointed with the photographers at the character meet and greets – they missed the most precious moments!  And I didn't use my own camera because I thought they would get it. 
Secondly, at popular spots you have to wait in line.  So much waiting in line.
Thirdly, it was hot and each time I had to get the kids in and out of the stroller and pose for a photo was NOT fun – as you can imagine.
Therefore, I didn't get as many photos as I had anticipated or wanted. 
But they do these 'magic' photos.  This is when they add little characters into the photo.  I sort of thought this was cheesy BUT my kids love love loved these photos.  So much so that I loved them and then asked for them each time.
Is it worth it?
Probably.  I mean you are already in the thick of bleeding money so you may as well do it and have the pictures for proof.  Just make sure you GET enough photos.
 Walt Disney World with kids tip:
** ASK FOR MAGIC PHOTOS ** They don't necessarily do this automatically.
You can see that some of these are wonderful (the night ones) and some are just okay and some (and I didn't post the worst ones) are not good at all.
10.
 

Early Morning Magic/After Hours

This Walt Disney World for beginners tip is a tad confusing

Not to be confused with the Extra Magic Hours (Disney likes to give similar names to different things) that are included with your stay at the resort, these are extra hours with less crowds that anyone can pay extra for.

Note:  the early morning hours are only for certain lands within a park.
For example:
Hollywood Studios offers EARLY MORNING MAGIC in Toy Story Land only on set dates from 7:30 AM – 8:45 AM (breakfast until 10).  This does not include Rock N Roller Coaster or Tower of Terror.  Also – this is currently on hiatus until the excitement for Galaxy's Edge dies down.
Magic Kingdom has EARLY MORNING MAGIC in Fantasyland (which does not include the circus area where Dumbo and the Barnstormer are) on set dates from 7:45 AM – 10:00 AM.  This is for Fantasyland only so not Splash Mountain or Space Mountain.
Hollywood Studios, Magic Kingdom and Animal Kingdom offers DISNEY'S AFTER HOURS which is slightly different than the above.
On set dates, you can purchase a ticket to gain an additional THREE hours after said park closes.  You will have access to all the rides as opposed to one particular land.  It varies from 9PM –  12AM or 10PM – 1AM.
Bonus:
 Disney limits the numbers of tickets sold so you truly get the park to yourself.
The Disney After Hours are $125/person plus tax.  This includes snacks and non-alcoholic drinks.
The Early Morning Magic are $69/child and $79/adult plus tax.  This one includes breakfast.
Is it worth it?
If George or Alice had truly loved the rides in Toy Story Land I would have said 100%. 
Toy Story Land was so incredibly busy.  It would have been fantastic to explore it with no crowds, meet Buzz, Woody and Jessie, and look at all the fun details.
As for Fantasyland – my early breakfast trick sort of did the same thing for us. 
Our kids would have been too zonked for the late-night hours.  Actually we would have been too zonked.
If you are going at the busiest time of the year or if you are only there for a couple of days (and your kids love rides) – then yes, these tickets are worth it.
Just another expense to suck up.
I have heard, however, that the Animal Kingdom after hours is not worth the price.  This is because rides like the Kilimanjaro Safari is pointless in the dark (and don't actually run). So unless you need to do the Flight of Passage or Expedition Everest over and over again, it might not be worth your money.
When you are going to Disney World with kids, you really do want to get in as much as possible.  Time is valuable and you may find this cost worth it.
To see what attractions are open for these extra hours check out:
After Hours at Hollywood Studios
Early Morning Magic at Toy Story Land
11.
 

FASTPASS+

I almost didn't include this tip because I thought everyone knew about it.  But it appears I was wrong.

Say this mantra to yourself:  GET FASTPASSES GET FASTPASSES GET FASTPASSES!

What is a FastPass+ you ask?

They are FREE, yes free, 'tickets' you are allocated to skip to the front of the line.

And they can be confusing.  Surprise Surprise.

Just like everything else when booking Disney, your window to book your FastPass+ open up before your stay.

If you are staying at a Walt Disney World Resort:

The window open 60 days before your arrival.

If you are staying off-site:

The window opens 30 days before your arrival.

Please note:  You must purchase your park passes in order to book your FastPasses.  A reservation at a Disney World Resort is not enough.

Once your booking window opens, you can book FastPasses for each day of your stay.

But you can only book FastPass+ for ONE park per day.

As in, you can't book Splash Mountain in MK for the morning and Slinky Dog Dash in Hollywood Studios for the afternoon.

Until you are physically in the park and using your Fast Passes.

My goodness, I am confusing myself.  Following me?  Let me step back.
Booking FastPass+ 30/60 Days Prior to Trip
Okay, so your window opens 60 days prior and you have your schedule worked out.  One tip I've seen several times is to book your FastPasses on the last day of your visit and work backwards.
You select one of the last days (or your first day), you select the park you plan to visit that day, then you choose your ride/show/character meet & greet.  Your selections are within hourly windows and the windows can't overlap.
To add another confusing layer:  there is also a Tier system.
You can choose ONE ride per Tier ONE system (the most popular rides) and TWO rides/experiences per Tier TWO system.
Booking FastPass+ While at the Parks
Once you have used your initial three FastPasses, you are now free to book more FastPasses.  And you can move parks at this point.
Just note:  not all rides/experiences will have availability.
It's honestly an easy system to figure out once you are there, but it sounds confusing before you actually use it.
Mousehacking does a much better and very thorough job at explaining how the system works (and suggests for how to make the most of it!).
Take Away Lesson:
Use the FastPass+ system!  It's the BEST.  Albeit annoyingly confusing.
To put all these things together:  Fast Pass, ADR's, Mobile Ordering as well as ride wait times, park maps, bus arrival times and more you will need to download this app on your phone.
And fun fact:  Disney World has complimentary Wifi throughout the parks!
This is the handiest little app that will make your Disney World with kids vacation run smoothly.
I truly hope this is helpful in your Disney planning!
A Walt Disney World for Beginners trip is wonderful –  you are going to have the best time.  It really is magical.  You know, with a lot of careful planning and copious research.  And then after that, it's magical.
I promise.
Happy Adventures,
Curious in Wonderland