Chengdu is a panda who can do many things.  He can push, pull, climb and swing – yes, he can do many things.  But sometimes even Chengdu needs help (especially when it comes to getting some leafy bamboo leaves) and that's okay.
What did we learn?
That even though you want to do something yourself, it's okay to get help when you just can't.
Why I like it:
We like pandas in this house.  We also like doing everything ourselves (well, not me so much, but my stubborn son) and it's a nice reminder that everyone needs help sometimes.  Also – the illustrations are simple and the pages extend which is always fun for a little reader.
Babysaurus (a brontosaurus I believe – I'm not a palaeontologist) loves to play hide-and-seek with Papasaurus.  One day, he has a very hard time finding him and asks all of his dino friends if they have seen him.
What did we learn?
We meet many dinosaurs and learn their traits (like the velociraptor who likes to fight) as Babysaurus looks for his papa.  Although if you don't know dinosaurs (like this mama) you may be at a loss as to what/who anky is.  Ankysaurus? Is that a dinosaur?
Why I like it
Very bright, clear illustrations set against a black backdrop makes the colours pop.
by Ame Dyckman & Dan Yaccarino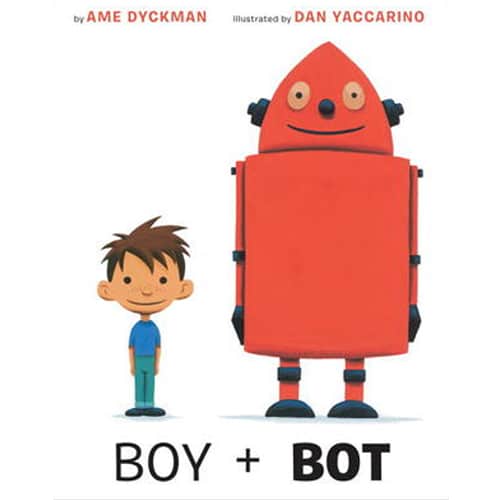 One day while boy is out collecting pinecones he meets a robot.  They become fast friends until Bot's power button accidentally gets switched off.  Boy takes him home and tries to cure him the human way.  While the boy is sleeping, Bot's button gets turned back on and he is worried that Boy has malfunctioned.  He takes him to his home and tries to cure him the robot way.
What did we learn?
Robot's have power switches.
Why I like it
This is a sweet story of unlikely friendship with lovely, simple text and illustrations.  George loves robots so we read this over and over.  He has re-named Bot as Yogurt so I must read it with the new name. I must also do a robot voice.  It makes me happy that he loves this book so much.
Hope you enjoy these picks! And as always,
Happy Reading,
Curious in Wonderland