by Doreen Cronin with pictures by Betsy Lewin
The farm animals are baaaaack!  This time they are headed to school.
Farmer Brown gets a letter from the local elementary school inviting him to come visit (as well as the animals – although this part is written in duck-like handwriting).  Everyone is so excited!  Especially Farmer Brown who hasn't been to school in a really long time.
The cows get to moo-ing, the pigs to oink-ing and the Duck to being very . . . . duck-y.  Farmer Brown says that when they go to school there can be no noice!  They must be serious and not cluck or moo or oink.  Hmmmm, school doesn't seem very fun.
Or does it?  What happens when the school bell rings and kids come running out?  Lots of happy noise of course!
Why I like it:
We love all the books in this series with Farmer Brown and his wacky barnyard animals and this book is no exception.  I enjoy that it does teach some of the not-so-fun things about school: being quiet, listening and being serious. But also shows how much joy and fun the kids have together. My favourite part are the 'real' rules at the end of the story:  be kind, be honest, respect one another and don't eat paste.
by Carrie Weston with pictures by Tim Warnes
This one is not really available to buy anymore so hopefully your local library has it!
In this book, Miss Cluck informs her students that they will be getting a new animal:  a bear!  Everyone is so excited to have a new classmate that is a bear.  Leticia the rabbit hopes it is a pink, fluffy bear. Maxwell the mole hopes it is a floppy brown bear with velvet paws.  The mice hope for a bear not unlike Paddington.
What the class doesn't expect is a BIG, SCARY, GRIZZLY bear which is exactly what Boris is!
Poor Boris doesn't quite fit in.  He's too big and he's too scary (well, he's not scary at all when you get to know him). His fellow classmates leave poor Boris out of their fun until he accidentally scares the bully rat pack that begins to pick on them. Suddenly they see Boris for the big softie he is and how helpful a friend he can be.
Why I like it:
This is just a super sweet story about not quite fitting in and how everyone deserves a place.  Great for your kids who might be a bit different and are nervous to go to school.
by Lisa Mantchev with pictures by Taeeun You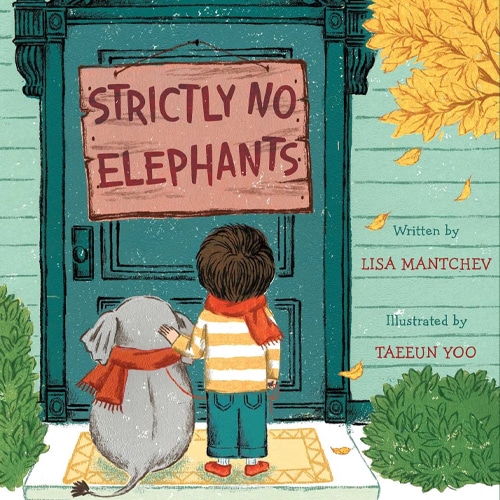 While technically not about going back to school, this book is about finding your own place of acceptance.
A little boy has a tiny elephant as a pet.  It's hard to have an elephant as a pet because you don't quite fit in.  No one else has an elephant.
But elephant is a great pet – he's thoughtful and kind.  The little boy is so excited to take him Pet Club Day where everyone will be.  Tiny elephant is shy but the boy coaxes him up to the door only to find a sign that says "STRICTLY NO ELEPHANTS".
The two leave feeling sad but run into a little girl with a pet skunk.  The Pet Club wouldn't let her play either.  The duo team up with their different pets and form a new club that doesn't let anyone behind.
Why I like it
I adore this book.  The message of friendship is so lovely. Friends are brave, kind and strong for each other.  They take turns helping each other.  And most importantly, good friends welcome everyone to play with them.
I picked it for going back to school because I hope that my children find their kindred spirits who make them better people and not get caught up in the playground drama.
Hope you enjoy these picks! And as always,
Happy Reading,
Curious in Wonderland