by Becky Davies with pictures by Ben Whitehouse
This is an insanely fun take on the classic song "Old MacDonald Had a Farm".  In this one, Old MacDino has a farm full of regular farm animals that have to share their space and food with dinosaurs. And these big old dinosaurs keep stomping around and ruining the farm!
They STOMP!  They CHOMP! They SWOOSH!  So tons of fun actions and words for kids to get into while you read this.
Why I like it:
We like farms, we like dinosaurs.  Therefore I like this book. I also appreciate that Davies has included phonetic spellings of the dinos.
This is a clever little story in which a little girl asks a little boy (urm, as I write this I realize this is a problem.  It's a book about mansplaining!) how vehicles work.  The boy might be clever but he's wrong (so maybe not mansplaining after all?).  Like a truck runs because a lion is inside peddling. Or a freighter works because an octopus spins a blue whales tail like a rotor.
It's the girl who knows how a bicycle actually works by getting on it and peddling away.
Why I like it:
It's pretty clever how Nieman has thought up ways that vehicles move based on animals.  George loves yelling "that's NOT how it works" and laughs hysterically – so at least I'm not giving him terrible ideas of how things work.  My science Engineer husband would not appreciate my whimsy.  Ha!
by Kristy Dempsey with pictures by Lori Richmond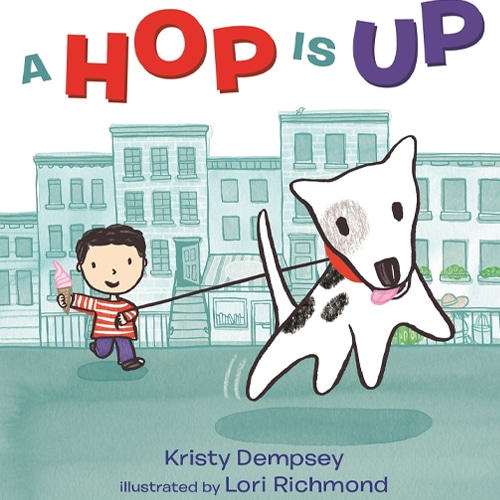 This book stars a little boy and his little white dog (much like George and Mr. Mop) who explore their neighbourhood and directions.
Like how a hop is UP and a bend is DOWN.  A march is RIGHT-LEFT, RIGHT-LEFT. And a jig's a WIGGLY, GIGGLY sight.
Why I like it
I actually don't have many books about verbs, adverbs or directions so this was a fun find.  I adore the illustrations which are sweet, bright with kids that look like my kids!
Hope you enjoy these picks! And as always,
Happy Reading,
Curious in Wonderland