by Birdie Black and pictures by Rosalind Beardshaw
This is an absolutely fantastic lift-the-flap counting book starring a mischievous little warthog.
Our warthog heads out on an adventure and counts as he goes. With each adventure we see what he <thinks> he's counting and as you lift-the-flap you find out what he is <really> counting.  Like stepping stones that are actually frog's heads or berries that are actually held in the beaks of eight birds.
Why I like it:
It's not your average counting book that says 'one butterfly or four carrots' – it has an actual story.  Plus lift-the-flaps are always winners (but cause so much drama between siblings).  I adore Beardshaw's illustrations which are bright and sweet.
When Albert the bear wakes up from his long winter's nap, he is so excited to visit his favourite Tree.
His tree is his own special place but he discovers that it is crying!  He asks his friends the Rabbit and the Caribou to help him cheer the Tree up.  They do the things they do when they want cheering up but the tree still cries.  In exasperation, Albert hugs the tree and softly whispers "Why are you crying, Tree?"  It turns out a little Owl is cowering inside afraid of Albert.  It isn't the Tree at all!  Soon Albert and Owl are the best of friends and share their favourite Tree.
Why I like it:
I love this book because it gently teaches about empathy and what makes us happy.  I love the simple illustrations and the lovely story.
by Stacey McCleary with pictures by Carmen Saldaña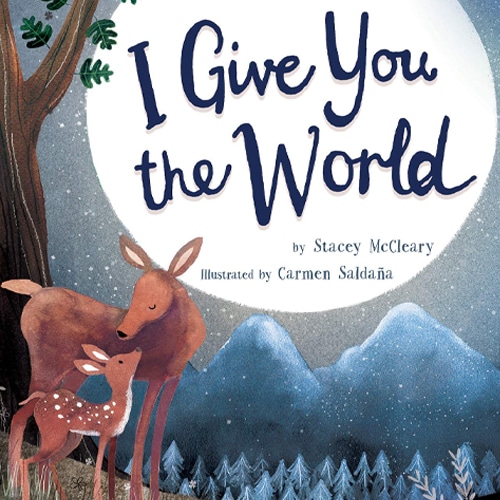 This book is recommended for ages 8-12 but my young kids loved it.  The text and message are definitely simple enough and the illustrations are lovely.
It's a sweet story about finding the perfect gift for your newborn child.  It's nothing you can put in a box or wrap.  It's the dawn's sweet dew or the muddy pigs.  It's the rainbows and fall's leaves.  It's all the things you experience in the world with your child as they grow.  So perhaps it's also a tear jerker?
Why I like it:
The illustrations are stunning with beautiful prose that definitely speak to every parent (especially the new ones!) who are eager to rediscover all the joys of the world with their children.
Hope you enjoy these picks! And as always,
Happy Reading,
Curious in Wonderland