After posting my flying tips, a friend of mine asked me to explain how I actually moved through the airport.
Ummm, I don't.  Not really.
I have done it approximately 2.5 times.
Time #1 was when I landed at Heathrow airport. I had concentrated so much on the flight with George I had completely forgotten to take into consideration how I would get from the gate, to luggage claim, to the bus, to the rental car.  In the rain.
I won't lie. I was a gong show and a total mess. I still have no idea how I did it really but I think it was a game of Jenga piling my luggage and carseat bag on the cart, placing George either precariously on top or having him in the Ergo 360, and carrying the stroller on my back. The end result was that I got to the car rental place completely flustered and stressed out.  Below is a picture of all that I carried.  Note:  this picture was on return and it was sunny and I had a friend with me.
The biggest lesson I have since learned from that experience is something you can do before you head to the airport:
Practice before you go.
Test all that you are packing, your child/ren, and your gear and see if you can do it at home.  It will still be a struggle but at least you will know what you need to do so that you don't break down in the middle of Terminal 3 in a sobbing heap yelling "I give up on the world".  Not that this has happened to me.
Okay, just a slight variation.
If it is too much, pack as minimally as you can.  I can see the Engineer laughing at this (or anyone I know for that matter) because if you knew me, you would know I DO NOT pack minimally.
I never have.
I don't think I have once every travelled with just a carry-on.  Even when I didn't have kids and it was only a weekend away.
So there you have it. I am not a professional.
I have no magic tricks.
But I do have things I have learned along the way and I will share them below.
And know that a solo travel day involves:  some swearing, a lot of sweat, and the kindness of strangers.
1. Have the Right Tools to be as Hands Free as Possible
A stroller that can carry all your crap
A baby carrier
A suitcase for your older child to pull
A backpack diaper bag (I don't have this yet. As I write this, I am also purchasing a much needed one. How have I lived so long without one?!)
A sense of humour
Time
2. You Need Help at Drop-off and Pick-up
Remember the 2.5 times I did the airport by myself?  I learned the hard way from those times and so I can't stress enough:
YOU NEED HELP
The .5 time gets only a .5 because it started out alone and then was called out for being impossible.
I had planned on returning my rental car to YVR, getting the kids from the parking lot into the terminal and then onto the plane.
Luckily, a dear friend intervened here and told me I was being ridiculous. She met me at the airport and helped me load the kids from the car and into the airport. And then she asked me: "how were you planning to do that by yourself?".
Yeah, I hadn't thought about it and honestly I don't think I could have done it.
The other time I was alone was at Pearson and the Engineer was away for work.
This was an unforeseen circumstance and happened in the same travel day as my failed solo trip above.
The only thing I could do was a strange game of push/pull with the stroller and luggage cart and the bribe game with George: I promised him donuts if he cooperated in pulling his suitcase.
I'm such a good mother.
We only had to walk 100 metres like this so it wasn't terrible.
The other thing I did was arrange a cab to pick us up that had pre-installed carseats.
Which leads to tip number 3.
3. Prepare Prepare Prepare.
If you don't have help at the airport either leaving or arriving there are some things you can do to help.
You really need to think of things beforehand and do the research. This is help lighten the load at the airport.
Things like:
(A)  Pre-arranging cars to pick you up with carseats
(B)  Paying for a valet at the airport to shuttle you in and out
(C)  Being okay with the fact you will not be taking public transportation from the airport to save money (we did this in Munich. It was stupid. My frugal husband thought it was stupid. That's how stupid it was).
(D) You also have to think about food and drinks. Knowing what is after security so that you can grab water or milk.
Or pre-arrange your meals to meet you at the gate/onboard.
These little details will save you some angst on either end.
(E) You can also eliminate some of the items you have at the airport by renting items at the other end. This may not seem cost-effective but for me – it eases much of the burden of travelling by myself.
I have had good luck in both Calgary and Vancouver. The items I had rented were dropped off at the airport so my parents could install the carseat for my daughter while I was getting off of the plane. In Vancouver, the items were delivered to where I was staying and additionally picked up.
I've heard mixed reviews of renting a carseat with the car rental company and it often ends up being close to the cost of a travel carseat.
Here are some examples of baby gear rental companies :
Just a cursory search brought up so many results so this option might be really helpful for you – especially if you are travelling solo with the kids!
Another tip for keeping it simple at the airport is to purchase an inexpensive booster seat (obviously if your children are out of the carseat) and then just leave it at your destination.  This will lighten the load on one end at least.
You just have to pile everything on a luggage cart, including your child/ren. Think of it like the best game of Jenga ever!
4. You Can't Count on the Kindness of Strangers, but Accept the Help when Offered.
Usually when people see a flustered mom struggle with a giant stroller and young children, they rush to help you (except you Heathrow Arrivals Level and all of Manchester airport).
Especially the airline staff.
I know you can't rely on this – but people will help in any way they can.
Unless you are flying Air Canada and you might be hooped.
Just kidding (although not really).
West Jet staff have always rushed to help me get one item down to the gate or offered to help me off the plane. I personally think they just want a baby snuggle – which many of them do!
KLM's staff were amazing and even tried to make George a little bed (that he refused to sleep in).
At the end of the day, I've made it at all of my destinations and that means you will too.
Going Through Security
I wish I had a picture of this for you.  Maybe one day I will do a time lapse video of the ridiculousness that is me at security with two kids (and sometimes a dog or two).
 It's all a matter of practice.
And you can make life easier for you knowing the order you need to pack and unpack.
As an example, on my last trip solo I was with my Uppababy Vista which means:
– I had Alice in the car seat clicked into the stroller
– George in the rumble seat
– the extra Vista seat (the one that comes with the stroller) & the rolled up Uppababy bag in the basket underneath
– my diaper bag/entertainment bag looped over  the handle
– my boarding pass & ID in my stroller storage bag (the one on the handle)
– my Ergo around my waist.
To get through security, I work from biggest to smallest and  end on the one that doesn't move:
– George gets out and is instructed to stand there,
– Extra seat & Uppababy bag removed from basket and placed on belt
– Followed by stroller bag (the small one with my ID), diaper bag (which I have prepped earlier so that the kids liquids are in their own section so I can easily hand them over), and Ergo.
– Take Alice out of carseat and then the stroller is sent through a special security thing complete with the rumble seat (I am sure every airport is different – annoying – but this worked at Pearson and YVR)
-Walk through metal detector with both kids
And then do all this again in reverse.
This is when l am dripping sweat.
How to do it when both kids can walk but one doesn't understand instructions?
I don't know – ask me in a few months when I've gone back to Vancouver. I suspect with some sort of cookie bribe and perhaps much chasing through the metal detector.
** If I haven't mentioned this before: ALLOW YOURSELF EXTRA TIME FOR SECURITY!!!
I have always been the last one on the plane, the one who gets to the airport just in time.
Those days are gone.
Security takes so long due to the aforementioned steps as well as your liquids/baby food.
Although we are allowed to take kids food that is more that 100 ML (bottle of milk, or yogurt, or squishy packs), security will take them all and do that swabby drug test thing with them.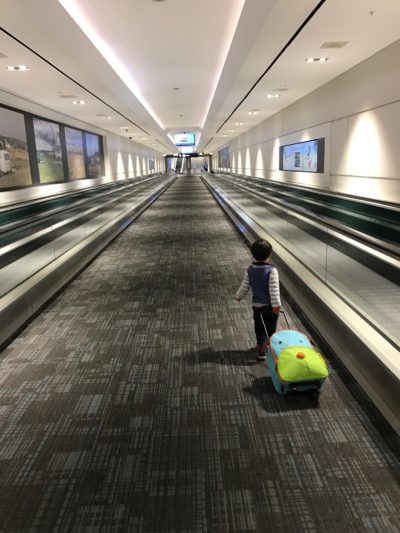 That's it.
I'm sorry I don't have a super easy solution.  Like in my flying with babies post, I just reiterate that travel days suck.
They are exhausting, swear-inducing, wine-needing, sweaty days.
I hope that gives you a better picture of how I get around the airport.
Because I don't.
Not really.
No travelling mom is an island.
I would love your tips and secrets to make my next trip easier!  I am attempting a flight in the spring with a four year old and an 20-month old.
It's going to be . . . .  fun.  
Happy Adventures,
Curious in Wonderland