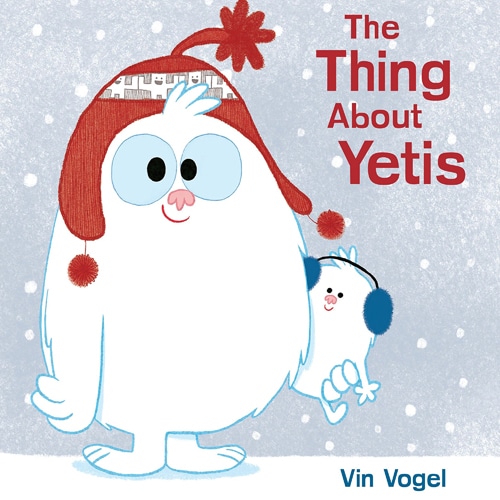 For whatever reason, George is obsessed with yetis at the moment.  We read this book again and again.
Yetis love winter.  They love to make snowballs (or become snowyetis), they love to build snow castles and then play Godzilla, and they love to sled down big hills.  But some winter days, even Yetis have enough.
This is when Yetis dream of days on the beach building sandcastles and then playing Godzilla or endless days of sunshine.
This clever Yeti figures out a way to bring summer to the coldest of winter days.
What did we learn?
Winter has many wonderful things.
But it is still long and horrible.
Why I like it:
I also like the Yeti – he is a funny, misunderstood monster.  I like that George likes it but it captures the attention of Alice.  And I like that even Yetis get sick of winter.
I adore interactive books that get your young reader to do things on each page that will have a reaction on the next.
And I adore Britta Teckentrup.
Therefore I adore this book.
In it, Tiger is sleeping but a slew of animals must get past her.  They can't wake her so the reader is asked to rock the Tiger, or rub her nose or blow on the balloon transporting Frog to make sure he doesn't fall on Tiger.
They all have balloons and party hats –  where could they be going?  We find out once the little Mouse falls on Tiger and wakes her up.
What did we learn?
That tigers like to be rocked to sleep. But only the ones in books.
Why I like it:
I already said. I think these interactive books are so much fun.
Last but certainly not least, as it is the first night of Hanukkah I wanted to share a book that I took out for the kids to teach us both all about this holiday.
The little girl is a mix of two traditions:  a dad that celebrates Christmas and a mum that celebrates Hanukkah (but I bet you could guess from the title right?).
The text goes back and forth of what her family does to prepare for both holidays and how they mix it up within each tradition:  her mum spreads golden gelt under the tree and her dad hangs candy canes on the menorah branches.  Her family tells stories of the miracle of oil and the baby born in a manger.
What did we learn?
I still don't know what gelt is but I do know is has something to do with Hanukkah.
Why I like it
In this day and age, more families are mixed race or mixed religion – so I enjoy how this book talks about both of the holidays and how differences can be brought together.  I have several friends that are this mix and I know that much of what happens in this book relates to them.
It is a tad old for George but perfect for ages 5 and up I would guess.  He doesn't really know what our Christmas traditions are yet and can't get the concept that his friend Henry celebrates something different with a menorah (he was very concerned Santa doesn't go to Henry's house. I assured him that Henry's mama is a Christmas mama and Santa would find him).
Hope you enjoy these picks! And as always,
Happy Reading,
Curious in Wonderland