It's snowing in parts of Canada today but it's still hot & humid here in Toronto.  In fact the other way we know it's September is that the splash pads are empty and the crowds have left the zoo.  And that we had our last Ontario-grown watermelon this week.
George loves watermelon.  I mean I like watermelon but this kid can practically eat an entire watermelon and he doesn't eat much of anything else.  Just like the crocodile in this story.  Crocodile will eat watermelon for breakfast, lunch and dinner. He absolutely loves watermelon.  One day he eats it so fast he swallows a seed!
Crocodile is terrified that I watermelon will grow inside him and vines will come out of his ears.  Luckily, he burps it right back up.
What did we learn?
That watermelons have seeds.  Remember when they had seeds??!
Why I like it:
My grandmother also loved watermelon so I think of her every time we read this book.  She told me not to swallow the seeds because then watermelons would grow out of my ears – so I identify with little Crocodile here.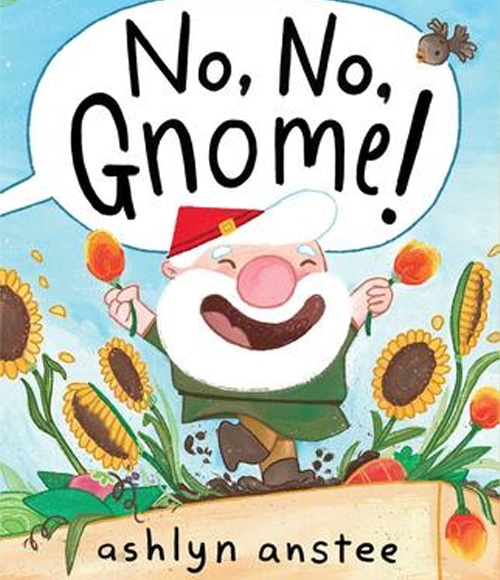 Still on the heels of summer theme, No, No, Gnome! caught George's attention because his Po Po's garden is full of little gnomes – which he really enjoyed.
Gnome is about an overly-enthusiastic and naughty gnome who ruins the garden at school.  When he sees how sad this has made his fellow classmates, he works through the night to create a perfect garden just in time for Harvest Day.
What did we learn?
When you hurt someone you like/love, you must wrong the right.
Why I like it:
I like gnomes.  And I like Anstee's whimsical illustrations (we enjoy her other books Are we there, Yeti? and Hedge Hog!).
by Melanie Watt (or actually Chester)
Melanie Watt is wonderful. You probably know her from the Scaredy Squirrel books.
This book starts off as a story about a mouse who lives in the country until Chester takes over the storytelling and it becomes a story about Chester the cat.
Like most cats, he's in your face, stubborn and wants to be the star of the show.
What did we learn?
Cats get what they want.
Why I like it
Watt writes with so many little humorous details and funny characters which makes reading it over and over again much less painful.  George cracks up each time we read this with huge belly laughs and says "that sill old Chester" again and again.
Hope you enjoy these picks! And as always,
Happy Reading,
Curious in Wonderland